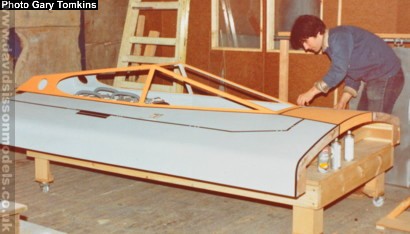 Terry weathering the Hawkwing puppet cockpit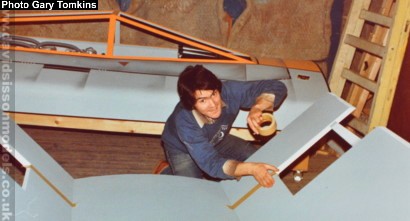 Preparing to paint the rear of Hawkwing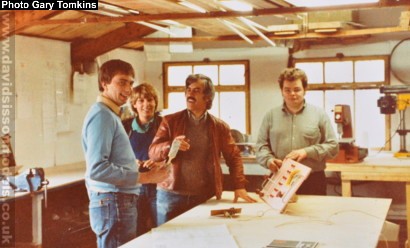 Prop Dept. Peter Tilbe, Kaye Moss, Peter Holmes & Mark Harris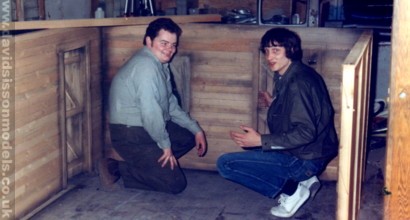 Mark Harris and Art Director Gary Tomkins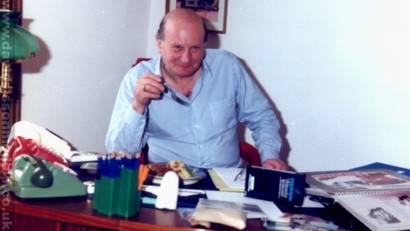 Series creator Gerry Anderson caught having his lunch.
David: That was a bit of a gamble.
Terry: It was, but it was what I wanted to do and it got me in to the industry, I was working and I managed to get my union ticket. It was strange that although I had always wanted to get into art department work, I actually ended up in special effects, as Cliff started teaching me about matte paintings, model work and even doing things like titling, where in those days you painted it all on to glass. There was no CGI in those days so when we did credits we put the Letraset lettering on the glass and then painted the drop shadow in, you can imagine how long that took. These days you can do it all on your computer… very quickly!

I actually only worked for Cliff for a short while and then found myself out of work, which I was to find was typical for the film industry. Then a friend of my uncles', a carpenter, said that he had a film coming up at Elstree Studios where they were needing people in the special effects department for a little known film called 'Raiders of something or other', and would I be interested?

As a film buff I knew that Steven Spielberg was in England doing 'Raiders of the Lost Ark', so I immediately said 'Yes' and ended up working on my first big film as a trainee in the effects department under Supervisor (the late and great) Kit West. I was on it for around 9-months and it was a fantastic experience, even going over to Tunisia to blow up the German plane. At one stage during the shoot, I asked Spielberg to sign my crew hat, which he kindly did. I'll always remember that he asked me what I would like to do in future, to which I answered that 'I would love to direct', and he said 'Maybe I'll be working for you one day!' We haven't got to that point yet, but I live in hope!

In the film I was involved with the Well of Souls and the opening sequence when the ball rolls down after Indy. Out in Tunisia I worked with one member of the crew called Bill Warrington, who had won an Oscar for effects and explosions in 'The Guns of Navarone', and he took me under his wing and trained me in the art of explosions and other effects work. Being a Trainee I was doing a bit of everything, I was lowest-of-the-lows on the crew, making the tea, running errands, but I didn't care as I was working in the film business on a Steven Spielberg film! It was just a great time.

Afterwards I again found myself out of work. I did little bits here and there and worked for Cliff again, but I was mostly temping and signing on when another big film with Kit West came along called 'Revenge of the Jedi' (as it was called then) and that was another great experience.

I was still a trainee, so I was helping out with the physical effects on stage, learning various jobs like welding and all that sort of stuff, but I wasn't very good at that! Being more artistic I was usually better at building things. One thing I remember doing was working on the second unit when the Emperor and Darth Vader fight at the end of the film. There's a scene when lots of sparks are coming off the back of Darth Vader's cloak, they were tiny little squibs and I put them all in.

David: It must have been an exciting time for you.
Terry: I was having a great time. I just couldn't believe my luck to be working on two big films by Steven Spielberg and George Lucas, two of my heroes. Even though I was driving a long way to work, over 2 hours, every day it was just wonderful for me. But yet again I soon found myself out of work and ended up just doing some bits and pieces on other small films, before I found myself working in a factory on the Slough Industrial Estate making plastic food and novelty items. It was here that I heard that Gerry Anderson was starting up a new series at Bray Studios, which wasn't far away from where I lived so without an appointment I just went over to Bray and told the person in reception that I was there to see the 'Terrahawks' Production Office and they just sent me straight up and I found myself speaking to Bob Bell (Series Producer). I explained what I had been doing and asked if there was any work available, he said that he was really sorry but they were all crewed up on the special effects stage and so didn't have any work to offer me. I was actually walking out the door when Bob called after me and asked if I was reasonable fit, and could I lift and make things, as he was looking for set builders on the puppet stage. I wasn't going to turn that offer down, so on the first few episodes I found myself working as a set builder and helping out with the props.